Since the 1980s, the Federal Lifeline Assistance Program has been connecting low-income Americans with affordable communication opportunities. First, it was the landline but with cell phones taking over the communication space, needy households are able to receive these gadgets for free from the government. So, the big question here is how one qualifies for a free government phone. With millions of Americans benefitting from this program, it's essential to know the eligibility criteria for one to qualify for a free government phone.
From the onset, it's notable to point out that the state where an applicant lives determines one's qualification status. Individual states have requirements that may influence one's eligibility, but given that this program is primarily from the federal level, the major points of qualification apply despite an applicant's state of residence. Therefore, there are two ways through which you can qualify for a free government phone.
I. Participation in a Federal Government Assistance Program
This is the major qualification avenue that allows most people, especially senior citizens, to receive free phones from the government. It's argued that if you are already in a government assistance program, you don't need any other prove to show that you're in need of financial help. This is the easiest way to qualify for a free government phone because there isn't a lot of verification to prove whether you're eligible or not. Regardless of the state where you live in, you automatically qualify for the free phone program if you're a beneficiary of federal government assistance. Here are the assistance programs that exist in every state:
Federal Public Housing Assistance (Section 8)
Tribally Administered Temporary Assistance for Needy Families
Food Distribution Program on Indian Reservations
Veterans Pension and Survivor's Benefit
Tribal Head Start (households have to meet its income qualifying standard)
Bureau of Indian Affairs General Assistance
In the same vein, it's of great interest to assert that a state can allow free government phone qualifications based on the state assistance programs that exist there. For instance, if you live in California, you can qualify for a phone if you participate in the Women, Infants, and Children Program. Also, if you live in Massachusetts, the MassHealth Program qualifies you to get a free government phone. This implies that you can still check whether your state has assistance programs that make you eligible for the Lifeline Assistance Program. And there are more opportunities that will come in order to benefit Americans.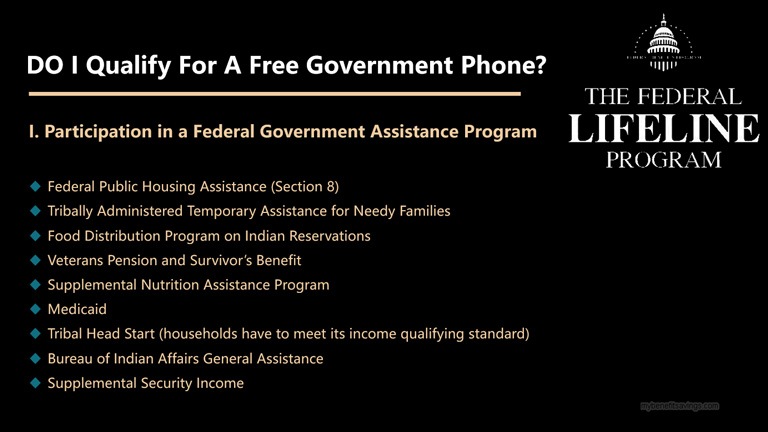 II. Low-Income Status
If you don't participate in a government assistance program, persons can still have free government phone qualifications based on their low-income status. Total household income consists of all the incomes that every person in your household receives. In this case, household income includes salaries, wages, spousal and child support, dividends, interest, grants, inheritance, stipends, social security and pensions, lottery winnings, allowances, gifts, rental income, and self-employment income. There are exceptions to total household income including student aid, military allowance, and small cash jobs like baby-sitting. If your total income is deemed to be lower than what your state refers to as a minimum, you're eligible to receive a free government phone.
All states apart from Alaska, Hawaii, and California require the income level of applicants to be at or below 135% of the Federal Poverty Guidelines. It's important for you to check your state's Federal Poverty Guidelines to see whether you qualify for a free government phone program. An important point to note is that you should have a valid U.S mailing address for you to qualify for the program. There are restrictions under the low-income avenue of qualification that you should be aware of:
A household should have only one Lifeline Service account
A household should not have a phone from more than one Lifeline service provider
The government's freephone service is non-transferable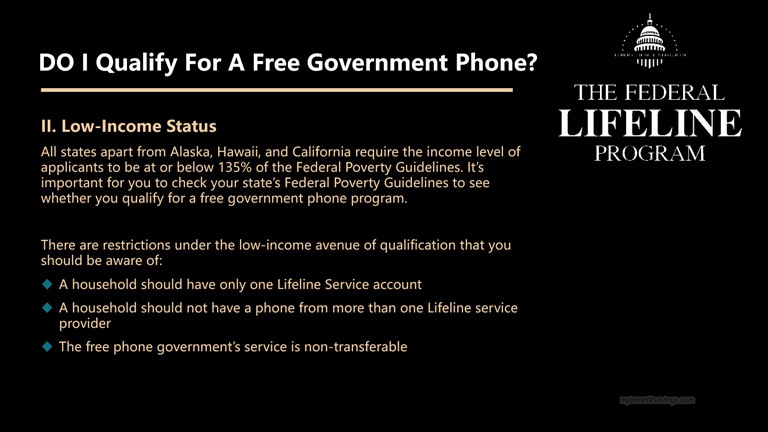 Eligibility Documents
Applicants should present eligibility documents in order to qualify for a free government phone. Whether you're enrolling through the government assistance programs or low-income status, you are required to present eligibility documents.
Federal Government Assistance Program Eligibility Documents
The following are the documentation requirements for those enrolling through assistance programs:
Documents of unemployment
Program award letter showing your full name and the name of the program
A dated program showing your program ID, name, and benefit name
A letter from State Agency showing that you get the benefit
Low-Income Eligibility Documents
Income tax return for the previous year
Child support award
Divorce declaration
Retirement or pension statement of benefits
Unemployment or Worker's Compensation statement of benefits
Federal letter showing participation in general assistance
Any other official document presenting income information
Social Security statement of benefits
Possession of these documents is important for you to qualify for the Lifeline Assistance program. Furthermore, you should make sure that your eligibility documents are dated within 12 months of your date of application. Also, don't forget to include your full name as well as the benefit program name. Moreover, make sure that your application and documents are readable and clear. If they happen to be otherwise, they will not get processed.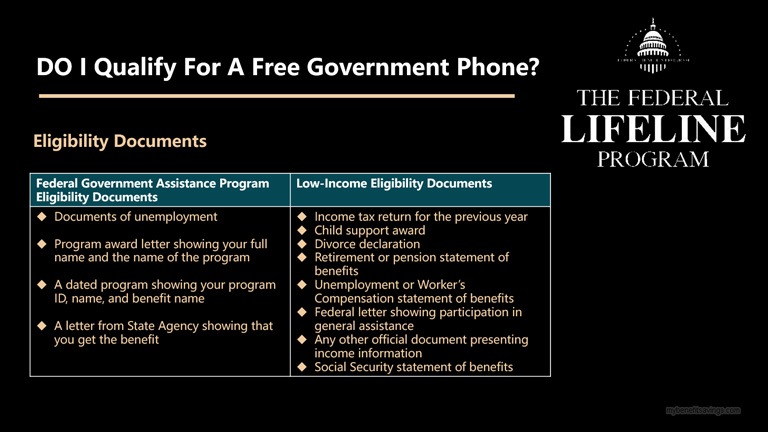 Eligibility Age
Of great importance still, applicants should be at least 18 years old for them to qualify for a free government phone. One must submit a copy of the birth certificate to prove that they are at least 18 years old. Only an emancipated minor can qualify for the program while under 18years old. If one is an emancipated minor, they have to submit a copy of a court document showing that they assume such an identity.
The above information contains the fundamentals of how to qualify for free phones for needy Americans. If you meet the above requirements, you are eligible to be part of the free phone program. The requirements differ from state to state, but the major essentials are universally accepted at the federal level. In regards to the eligibility documents required for qualification, you should liaise with the relevant institutions for proper documentation.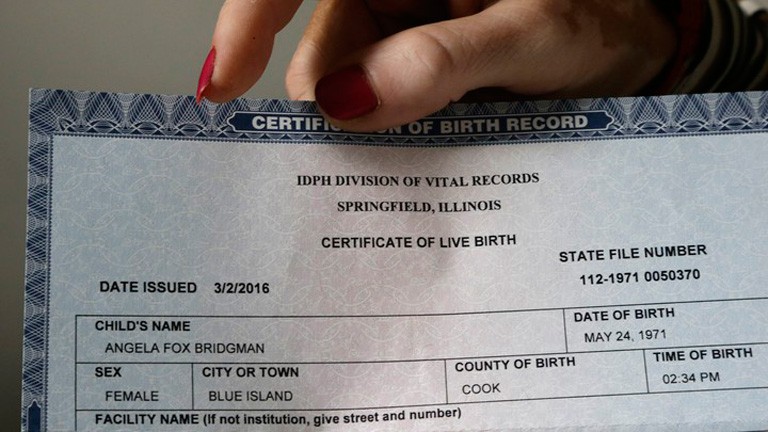 Below are other articles that you may be interested in:
Obama Phone – History, Eligibility and Providers
How to Get a Free Government Phone
What is the Supplemental Nutrition Assistance Program (SNAP)?
Medicaid Eligibility and Types
Free Government Cellphones in California
Free Government Phones in Alaska
Free Government Cellphones in Hawaii
Companies That Offer Free Government Phone – Free Cell Phone Providers