Infiniti Mobile is one of the leading companies when it comes to free government phones. Their services are designed to help financially disadvantaged members of the community to access basic telecommunication services, to help them stay connected with their friends, family, colleagues, and associates. Read on to learn more about Infiniti Mobile phones, their application process, available plans, phones, and eligibility criteria.
Infiniti Mobile's application process is easy and fast. And the entire process is done online, meaning you don't have to visit their offices. First, you will be required to enter your Zip Code on their website, so that they can check whether their services are available in your location. If your area is covered and you are eligible, then you can proceed to the next stage. Second, you will be required to provide your information, including proof of eligibility, address, or any other information that may be needed to support your application. If your application goes through, your phone will be shipped to the address that you listed on the application form. It's important to note that you will incur the shipping costs and you have the freedom to choose your preferred courier. Once your phone arrives, you can then contact the company's customer representative, who will activate your phone and guide you through the installation process. Also, you can activate your phone directly through your Infiniti Mobile account.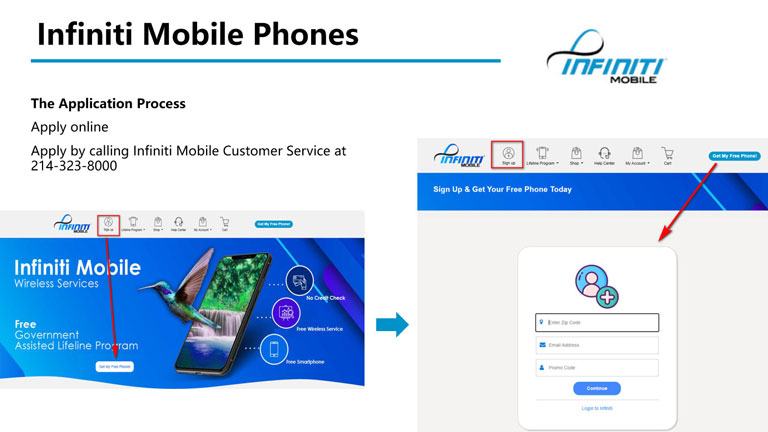 Plans
Infiniti Mobile offers a Lifeline free service to all its users including 1GB of data, 1000 free minutes, and unlimited texts. You should note that this plan might vary from one state to the other. Therefore, ensure you check and confirm the available plan for your location. Regardless of the plan that you choose, you will enjoy free data, free talk time, and unlimited text messages. So, with these plans, you can use the free data for music, videos, browsing the web, interacting with your friends on social media, or any other way that you want to use your free data. So, what happens when the free airtime and data you've been allocated gets depleted? Well, Infiniti Mobile has several refill plans for both data and a single plan for airtime. For airtime, you can refill your airtime for $10 per month, which gives you 1000 minutes of talk time. As for the data, you have 4 refill options to choose from, ranging from $10 per month to $30 monthly. The $10 data refill option gives you 1GB of data while the $30 refill option comes with 4GB of data refill. You can then choose the refill option that suits your needs and budget.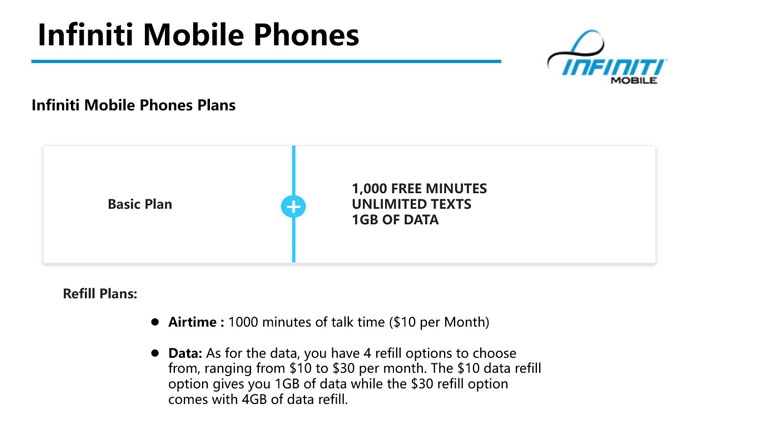 Phones
Every new customer receives a free smartphone from Infiniti Mobile. And with a smartphone, you can do more beyond the basic calling and text. For instance, you can use your smartphone to browse the web, check your emails, check social media, Skype with friends, take and share photos, and much more. Infiniti Mobile also allows users to bring their own phones. But for your device to be accepted into their network, it should be unlocked and should never have been reported stolen. You should also note that Infiniti Mobile channels its services through Verizon's network towers. So, your device also needs to compatible with Verizon for you to access Infiniti Mobile's services. Infiniti Mobile also allows number porting, meaning you don't have to acquire a new number to use their service. But before porting your name, you should ensure that your old number is active. Also, you should clear all outstanding balances with your current service provider, before you attempt to port your number. If everything is in place, you should then contact Infiniti Mobile, and their customer service reps will guide you throughout the process. Porting should be complete within 1 business day if there are no issues with your line.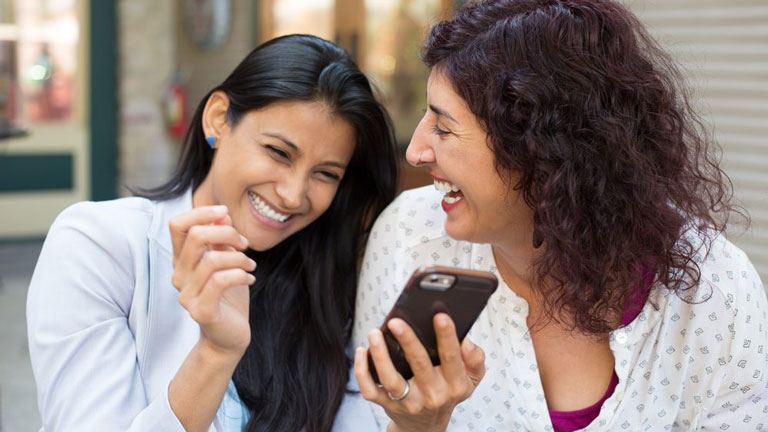 Eligibility is imperative in acquiring a free government phone because not all persons qualify for it. Fundamentally, there are two levels of eligibility namely: Income-based and assistance program-based. For the assistance-based, persons qualify if they participate in either federal or state assistance programs. By the virtue of being a participant in such a program, persons find it easier to become part of the free government phone program compared to the income-based eligibility. This is because for one to be in such a program, he or she has to be needy. The other form of eligibility is income-based and it requires an applicant to present their income documents to prove that they deserve to be assisted by the government. If persons have an income that is at or below 135% of the federal government poverty guidelines, they qualify to be assisted by the government.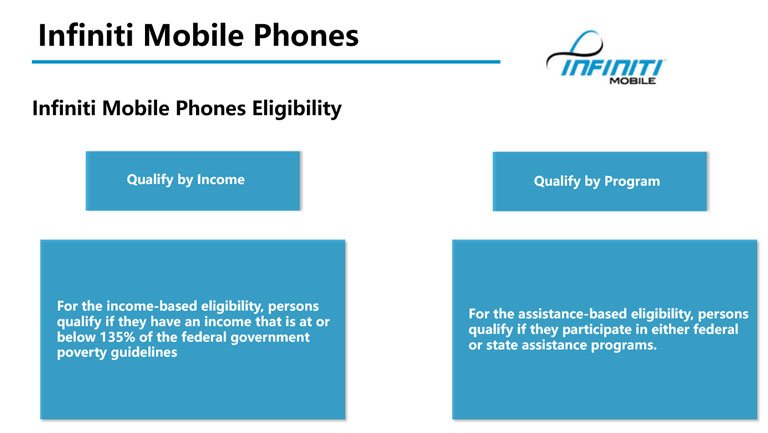 Closing Remarks
Infiniti Mobile provides free mobile phones, airtime, data, and unlimited texts to all the eligible members of the community. Their application process is simple and fast, their customer service is excellent and their plans are convenient for everyone. With Infiniti Mobile, you now have a convenient and affordable means of keeping in touch with your friends and family, wherever they may be.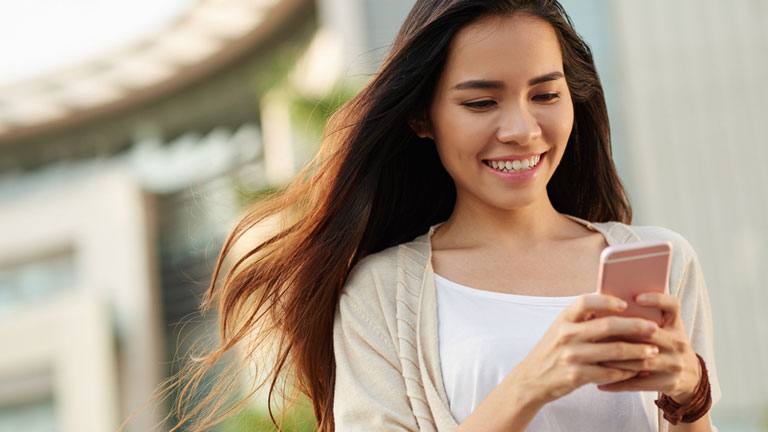 Below are other articles that you may be interested in:
Companies That Offer Free Government Phone – Free Cell Phone Providers
Obama Phone – History, Eligibility and Providers
How to Get a Free Government Phone