If you are a resident of Alaska and you're struggling to keep up with the expensive communication rates, you can apply for a free government phone through Copper Valley Wireless. This will allow you to communicate at an affordable rate. Copper Valley Wireless is an Alaskan communications company that works with the federal government in the Lifeline Program. In this article, you will get details on eligibility, application process, plans available, as well as the cell phones offered to qualified persons.
Application Process
If you would like to benefit from the free government phone program, you have to begin the process by applying through an approved service provider. Copper Valley Wireless is one of those companies partnering with the federal government for the program. You can visit their website for the application process. Once you're on the site, you'll be able to fill in details necessary for the application process. Afterward, you'll submit your application and wait for approval from the company. Alternatively, you can call the customer care desk to get information on how to proceed with the application. The customer care personnel will offer you all the necessary details you need to complete the process. You have the liberty of choosing the application method that suits you the best.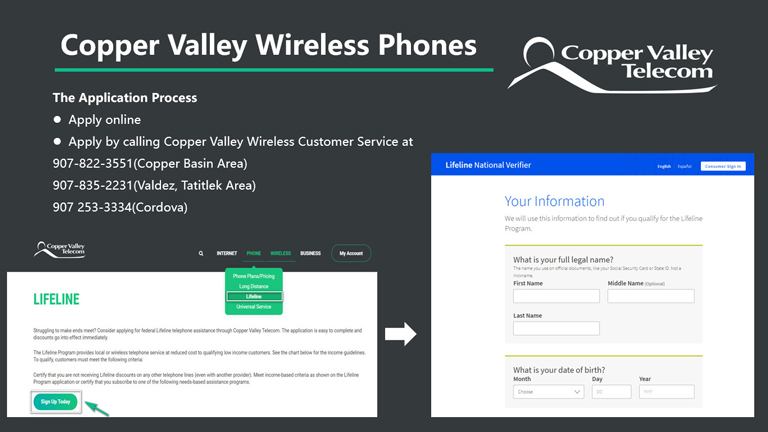 Plans
If you are a free government phone beneficiary through Copper Valley Wireless, you are able to get a communication plan that works for you. For only $1 per month, you have access to the following:
Unlimited texting
450 nationwide voice minutes
Unlimited weekends and nights
Mobile-to-mobile calling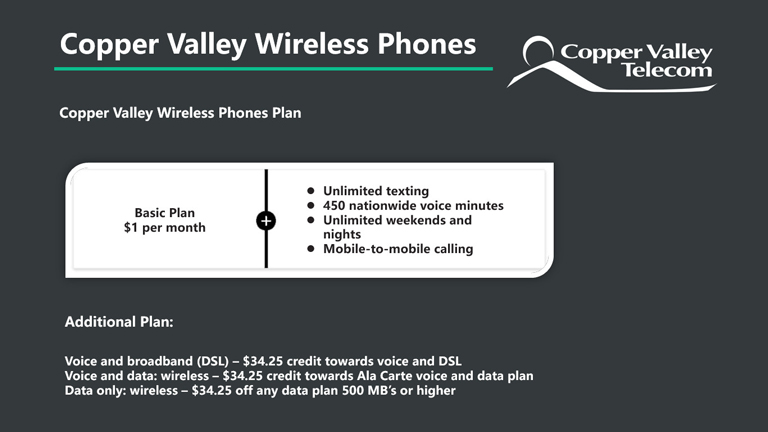 Cell Phones
Copper Valley Wireless offers a wide range of cell phones to eligible persons. However, it's important to note that the phones are issued on the basis of availability. Those who qualify receive the phones that are available at the time. With these phones, you'll be able to reach out relevant persons to get connected to important resources. Moreover, you will have the opportunity of connecting with your loved ones and friends at an affordable cost.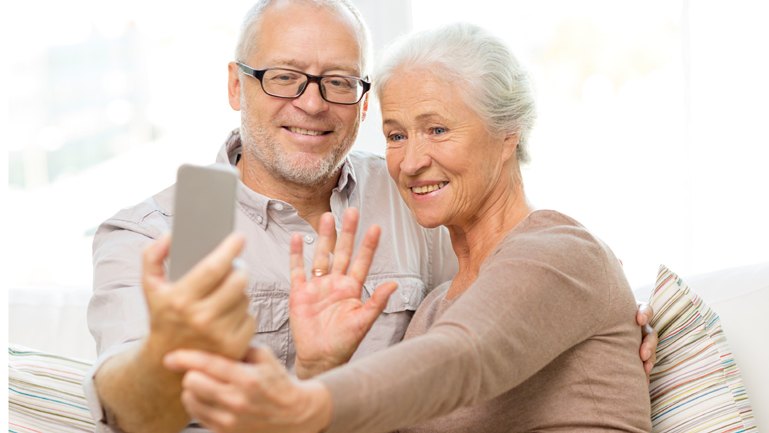 Eligibility
Eligibility of persons comes in two ways. One of them is eligibility through government assistance programs. The federal and state governments offer assistance programs to persons who lack the financial ability to take care of their basic needs. Those who participate in such programs are automatically allowed to become beneficiaries of the Lifeline Program since they have proven to be needy citizens. For such, there's no need for documentation to show proof of being needy because it's quite evident. An example of government assistance programs is Medicaid.
The other avenue of eligibility is income-based. Persons with a low income are allowed to be part of the Lifeline Program. The federal and state governments have set the minimum level of income that persons should have for them to qualify for the free government phone plan. For instance, if a person's income is at or less than 135% of the federal government's poverty guideline, he or she is eligible to become a beneficiary of the Lifeline Program. Therefore, if you qualify through either of the above ways, you can choose to apply for the program through Copper Valley Wireless.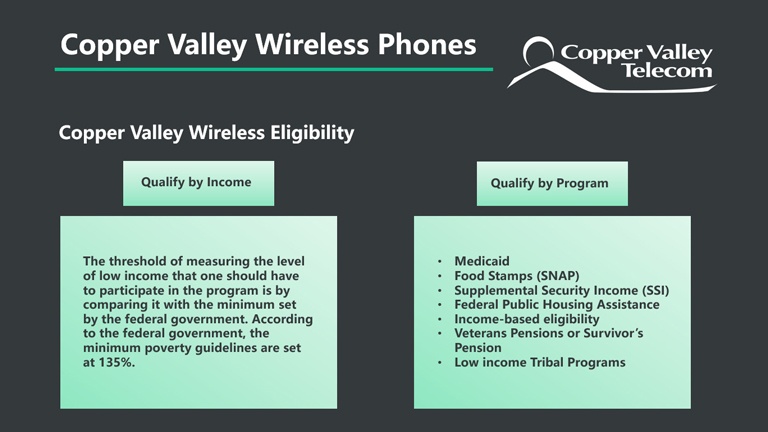 Below are other articles that you may be interested in:
Free Government Phones in Alaska
Obama Phone – History, Eligibility and Providers
How to Get a Free Government Phone
Do I Qualify For A Free Government Phone?