True Wireless is a communications service provider that works together with the federal government to supply free government phones under the Lifeline program. The program serves American citizens who are in need of affordable phone services because of their financial inadequacy. Since its inception in 2008, the company has been offering this service in the following states: Oklahoma, Rhode Island, Arkansas, Texas, and Maryland. The persons who qualify for the program are able to choose from a variety of phones available. In this article, you'll get to learn more about True Wireless in relation to the Lifeline program.
The application for a free government phone by True Wireless Phones is simple. All you need to do is to visit their website for an online application. There is an application form that will require you to fill out your important details like your name, address, and date of birth. You will check whether your state is among the ones covered by the company. Once you are through with the application you'll have to wait for feedback from True Wireless. There's also another simple way you can opt for to get application details. You can call the company through their customer service line. Here you'll be attended to by the customer care team and they will direct you on what to do and any requirements for the application. From the two modes of application, you can choose the one that suits you the best.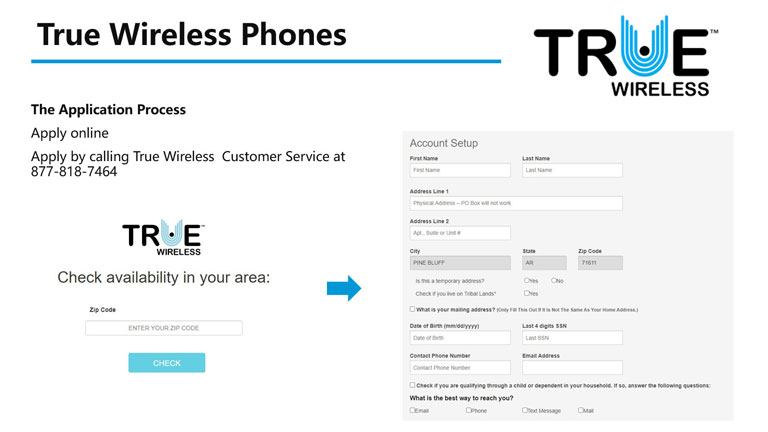 Plans
True Wireless has various plans that customers in the Lifeline program have access to. Once you receive a free government phone from this provider, the phone comes with the following package: 1,000 minutes, 1,000 texts, and 2 GB of data on a monthly basis. Apart from the free plan, True Wireless also offers a pay-based plan for customers who would like to get more from them. Some of the basic features of their pay plan include the following: For $1, subscribers get 1,000 free minutes, text messaging, long-distance calls, call waiting, caller ID. There is also the rate for unlimited for $6.75 a month. For unlimited text messaging customers pay $20 per month.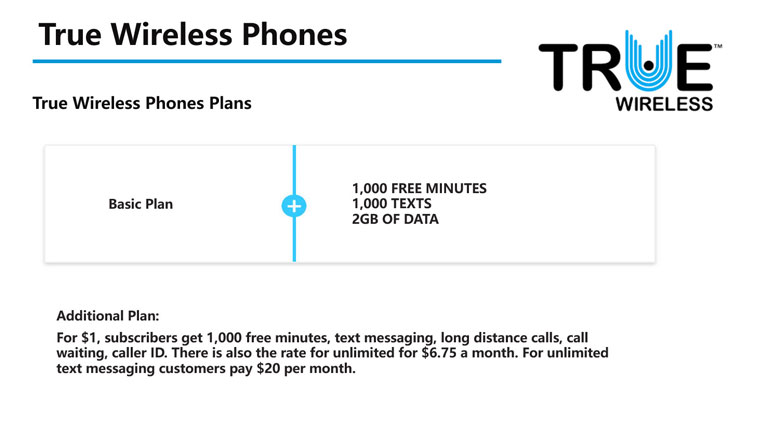 Cell Phones
True Wireless gives out various phones to the people who qualify for the Lifeline program. Some of the phones that beneficiaries of the program are likely to get include Nokia, Motorola, Samsung, LG, Sony, and Apple brands. It's important to take note that these phones are issued to those who qualify according to their availability. This means that beneficiaries don't have full control of the phone they would like to have. However, if you happen to dislike the smartphone that you receive from True Wireless, you can make a request to the company to have it upgraded. This will attract an additional fee. In case you happen to lose your phone or want to replace it for another reason, you can apply for the same through the company's website and make your request. This will cost you an additional fee but it is affordable.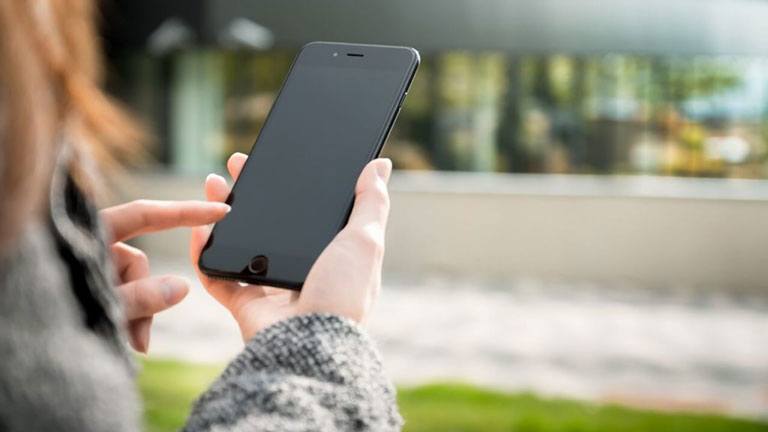 It's valuable to take note that not every person is eligible to become part of the Lifeline program. Only those considered to be needy have the opportunity of qualifying for the free government phones. So, how does one fit into the category of being needy? There are two primary ways through which a person can qualify for the program. One of the ways is by being a participant in a federal- or state-funded assistance program. Those who are in such programs are considered to be very needy. Thus, they don't require a lot of documentation to prove whether they qualify or not. That is why many elderly persons qualify for free government phones through this platform. The other avenue through which persons qualify is income-based eligibility. In this particular one, if one earns below the standard poverty level set by the government, they are eligible for the program. Specifically, if one has an income level of 135% and below, they can go ahead and apply for the program. The only thing with income-based eligibility is that one has to show prove by producing documentation to the relevant persons. It is harder to qualify with this avenue compared to the assistance program eligibility. Either way, once you qualify, you can go ahead and apply for a free phone from True Wireless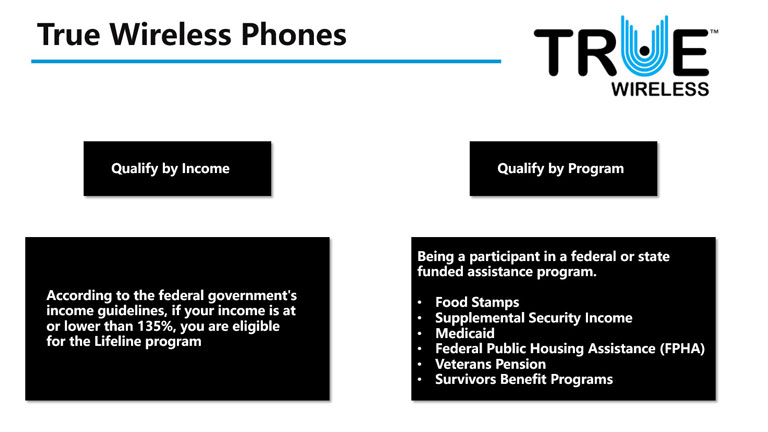 Below are other articles that you may be interested in:
Companies That Offer Free Government Phone – Free Cell Phone Providers
Obama Phone – History, Eligibility and Providers
Free Government Cellphones in Oklahoma
Free Government Cellphones in Rhode Island
Free Government Cellphones in Arkansas
Free Government Cellphones in Texas
Free Government Cellphones in Maryland
How to Get a Free Government Phone