What are the grants?
Going to college can be too demanding financially. A large percentage of families whose wards go to college accumulate debt on loans, on a yearly basis. Often, as graduates, it becomes insurmountable to pay back the loans one accrued back in school. According to reports, students borrow up to $28,000 (on the average) to support their tuition expenses before they graduate. Now, this is the very essence of grants and scholarships! Unlike loans, you don't have to refund the aid money later. This is why grants and scholarships are referred to as gift aids.
While the terms grants and scholarships are often used interchangeably, as though they were the same, there's a marked difference between the two. Grants are financial aids offered on the basis of the student's need (need-based), while scholarships are offered on the basis of merit (merit-based). However, this distinction isn't exactly non-overlapping as some grants may include elements of merit and scholarships aimed at meeting the needs of a student abound too.
Existing Grant Options for Students and Their Requirements
Many students miss out on grant opportunities while in school due to some misguided information or others. Some decide not to apply for grants on grounds that they would not meet the requirement. Another group is of the philosophy that government grants are designed to give assistance to the traditional student (not adult ones). It is important to strongly state that acquiring a grant is not as difficult as it may appear, and when you decide to apply for anyone, making a little research on it would make a world of difference!
A wide variety of financial aid programs exist in the country, some specific for undergraduates pursuing their first degree in any field, few for specific fields of study, and yet there are those for graduates on their second degree of higher learning. These grants are open in four major categories as would be discussed shortly– Federal, State, Private, and School grant programs. Of these, the federal schemes are more notable and should rather be considered strongly.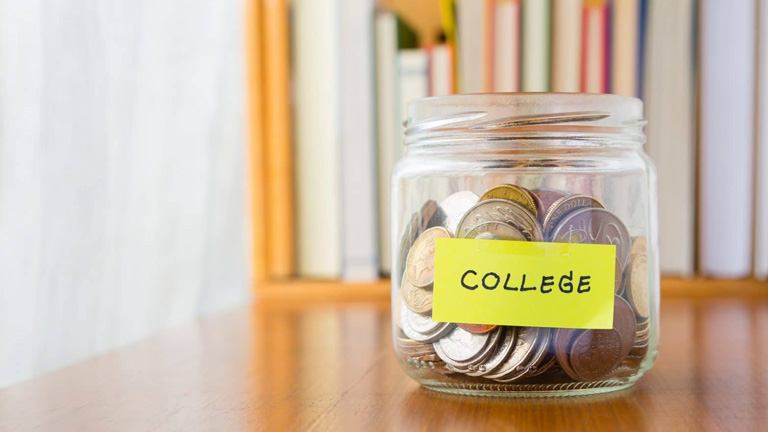 FEDERAL GRANTS
There are four main types of grants offered by the Department of Education, funded by the federal government– Pell Grants, Federal Supplemental Education Opportunity Grants (FSEOG), TEACH Grants, and Iraq and Afghanistan Service Grants. While some are open to students in all fields of study, a few are restricted to certain specific areas of study.
PELL GRANTS
Pell Grants are designed for students with financial need, and not necessarily low-income ones. Up to 9 million students benefit from this scheme yearly across different fields of study in accredited schools in the country. The grant money was set up at a maximum of $6, 095 in the 2018/19 school year. This grant is open to undergraduates of all ages pursuing a first degree in any area of study and is valid for twelve semesters. The requirements suggest that interested applicants must be U.S citizens or permanent residents, with a valid social security number. Halftime enrolment into any accredited educational learning program is desired.
Federal Supplemental Education Opportunity Grants (FSEOG)
This scheme is sponsored by the federal government but administered by the financial aid office of the schools. The timely filling out of FAFSA forms is deemed necessary in obtaining this grant as each school receives a limited amount of money from the federal government. As not every school in the country is included in the scheme, it would be equally necessary to consult one's school financial aid office before filling out the form. Between $100 to $4,000 is awarded to each student yearly.
TEACH GRANTS
Teacher Education Assistance for College and Higher Education (TEACH) Grants of up to $4,000 are awarded to students in education (that is, those intending to be teachers). The grant is issued with an agreement that obliges the recipient to teach in a high-need study field and in a low-income area for four years within eight years of graduating from school. Failure to meet the requirement turns the grant into a Direct Unsubsidized Loan that must be fully paid back!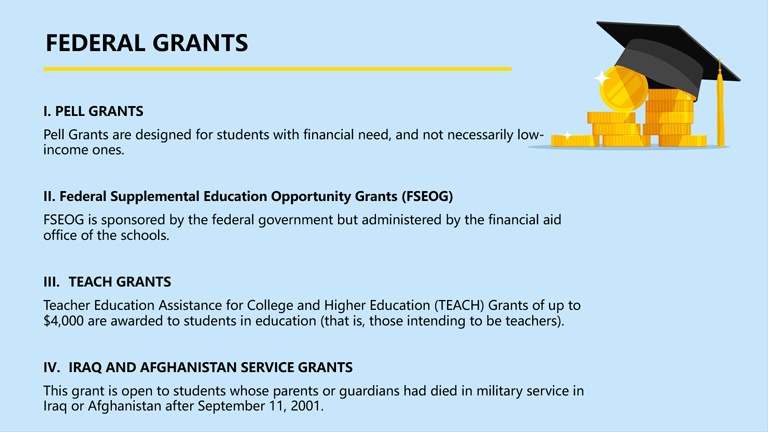 IRAQ AND AFGHANISTAN SERVICE GRANTS 
This grant is open to students whose parents or guardians had died in military service in Iraq or Afghanistan after September 11, 2001. The student should be less than 24 years of age at the time of the parent's demise. Other requirements to meet are those pertaining to the Pell Grants awards. The grant award money is equivalent to the Pell Grants maximum of $6,095, for the 2018/19 school year.
STATE GRANTS
Aside from federal grant schemes, individual states in the country have one or more grant programs running, and, thankfully, oftentimes the grant schemes outnumber the loan programs. The major requirement for application to most state grants is to fill out the FAFSA (Free Application for Federal Student Aid), although states such as New York, Pennsylvania, and New Jersey have included their own special grant application. There's a tool on the website of the Department of Education that might help in finding the agency in charge of each state's grant. In addition, the National Association of Student Financial Aid Administrators (NASFAA) has developed a map to direct students to the official website for each state's department of education financial aid. Though most of the state grants are presented in the name of scholarships, they are grants, in fact, due to their need-based criteria.
PRIVATE GRANTS
Private grants are often special grants offered to students in certain categories, for example, the disabled, ethnic minorities, immigrants, single parents, and a host of others. These grants may also be found in scholarship databases. You might want to consult the College Board website, under the category of need-based financial aids, to locate some of these grants opportunities.
SCHOOL GRANTS
This type varies widely from school to school, and only students of the school are eligible to apply. To obtain this, it is advised that one explores the grant options available for them before making their choice of where to school. This also applies to online schools, albeit only accredited online schools offer this.