The Lifeline program has been inexistence for decades since its inception, and FeelSafe Wireless happens to be one of the companies providing communication services to beneficiaries of the program. The program enables people with low income to connect with family and friends and also be able to gain access to necessary services. For those who would wish to apply for the program through FeelSafe Wireless, there are a couple of important things that you should know. This article explains the application process, the cell phones available, the plans available, and how to qualify for a free phone.
If you have chosen FeelSafe Wireless as your preferred service provider, you can apply by visiting their website and downloading the application form. After filling the form, you can choose to either fax or mail it to the company. As you send your application, remember to attach proof of your financial status. This is important so as to determine whether you're eligible or not. Some of the documents that you should send along with your application include A recent Federal Tax Return or a payroll statement, among others that can help show proof of your income level. You can also call the company's customer care service for more details on how to apply for a free government phone.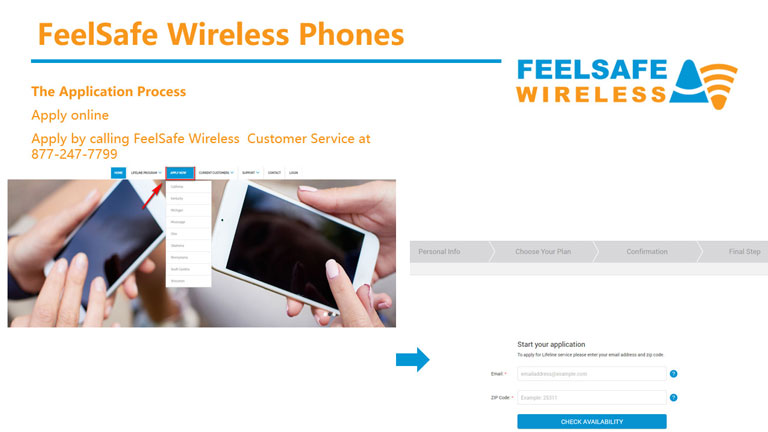 Plans
At the moment, there are three plans that the company offers to beneficiaries of the program. If you're a resident of California, you will have the following benefits: unlimited minutes and text, 3 GB of data, and 100 international texts. For residents of Oklahoma, a FeelSafe plan offers you the following; 1,000 minutes, 500 texts, MMS, and 5 GB of data on a monthly basis. It's important to point out that the Tribal Oklahomans enjoy unlimited minutes and texts. In the other states where the company provides its services, beneficiaries enjoy 1,000 minutes per month for free, 500 free texts, and 3GB of data. If you will need more minutes, data, and texts, you can buy from the company. If you would like to have more information regarding the plans by FeelSafe Wireless, you can visit their website for assistance.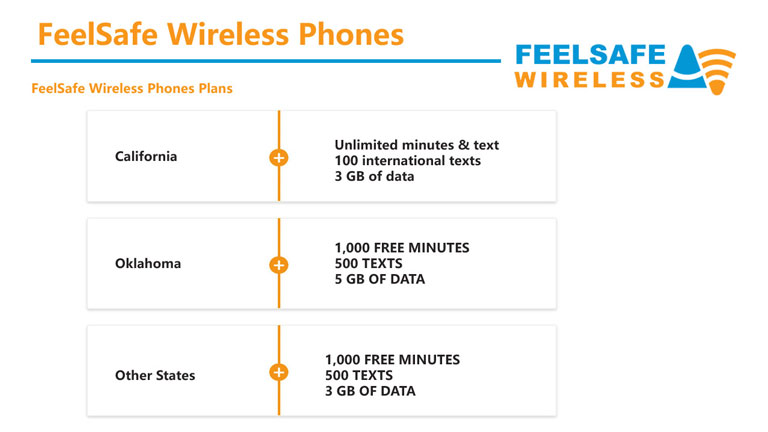 Cell Phones
The company offers cell phones from different brands and in different models. The policy by the service provider is that you can't choose what phone you want from them. You can only receive the brand and model of phone that is available. It can either a normal cell phone or a smartphone. If you happen to be unsatisfied with what you receive from the company, you can bring your own phone and have it connected to their network and service. The phone has to be compatible with their network for it to serve you. If you will want to replace your phone for whatever reason, you can reach out to the company through their website. It's imperative to take note that you will have to pay a fee for this service.
Eligibility is the most important part of this program. This is because not every person qualifies to be part of it. There are only two ways through which you can qualify for a free government phone from FeelSafe Wireless. The first way is by being a participant of a federal government or state government funded assistance program. By being a member of such, you automatically qualify for the Lifeline program. It shows that you're needy and you need assistance to communicate with your loved ones and get connected to other services of necessity. This is the easiest way to qualify for a free government phone by any service provider.
The other mode of eligibility is through the income level system. If your income is low, you qualify for the program, but you have to show proof that your income is lower than the minimum set by the government. According to the federal government's income guidelines, if your income is at or lower than 135%, you are eligible for the Lifeline program. You can go ahead and apply, but you will have to present documentation showing your financial status. That is why this method is harder than the assistance program. Regardless of the mode of eligibility that you use, once you're approved, you can go ahead and apply through FeelSafe Wireless.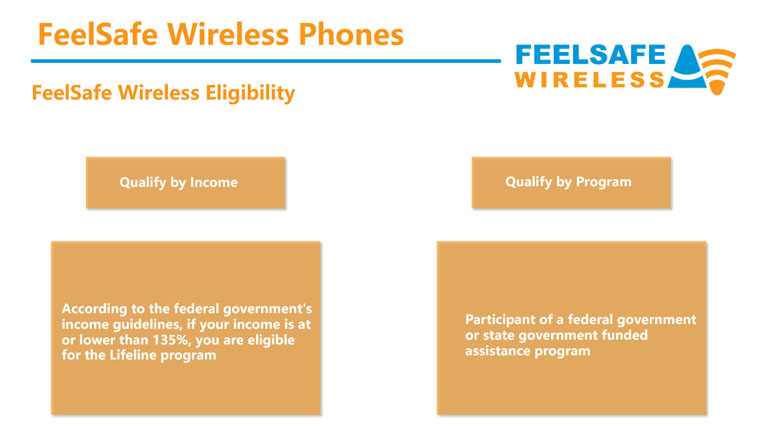 Below are other articles that you may be interested in:
Obama Phone – History, Eligibility and Providers
Companies That Offer Free Government Phone – Free Cell Phone Providers
How to Get a Free Government Phone
Free Government Cellphones in California
Free Government Cellphones in Oklahoma